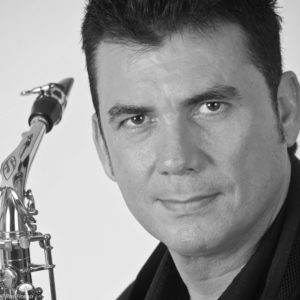 Francisco Martínez completed his formal music study in Alicante and Madrid. Later he completed additional studies in France with Daniel Deffayet, Serge Bichon, and J.M. Londeix. He is a National Music Award Winner as artistic director of Sax-Ensemble
As a soloist, his performances consist of concerts in various concert halls within Europe, the United States, and Asia. As an educator, he has taught courses or masterclasses on three continents and works at the Madrid Royal Superior Conservatory of Music, were also is Head of Wood Wind Department.
He was the founder of the Spanish Saxophone Association, Artistic Director of the First European Saxophone Congress and also President of the European Saxophone Committee.
Francisco Martinez uses the Selmer saxophones and the D'Addario reeds.
He is the founder and artistic director of the Sax-Ensemble and programs the "Music for the Third Millenium" concert series.
This year he will perform at the Zagreb World Congress, Santander Festival Music, Lazaro Galdiano Museum, Royal Academy of Fine Arts in Milan, Oporto, Madrid. You can visit his activities project or his biography.
For more information or to visit his blog, see the Spanish version of this website.